" Director John Hughes refused to release a soundtrack album for his film Ferris Bueller's Day Off because he didn't think that the diverse collection of songs in the movie would "work" together. People have been looking in vain for that album ever since. The closest thing that exists is a promotional single (45RPM) featuring tracks from the film; the single was distributed through the mail to John Hughes fan club and at sneak previews around the time of the film's release. It featured "Beat City" by the Flowerpot Men and "I'm Afraid" by Blue Room on the flip side. "
Taken from http://www.filmmusic.com/
Recently this historical wrong was corrected with the making of the Unofficial Ferris Bueller's Day Off Soundtrack.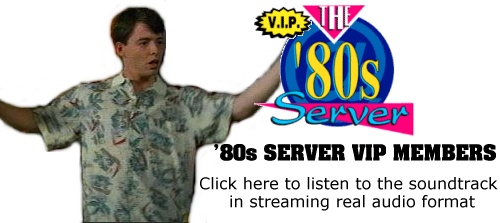 If you are interested in becoming a '80s Server Member for access to this area and many other great benefits, click here for further details.
| | | |
| --- | --- | --- |
| Front cover | Inside cover | Back cover |
TRACK LISTING (click song titles to see song's seperate page)
"They bought it"
Love Missile F1-11 (Extended Version) Sigue Sigue Sputnik
"Roll call"
Jeannie (Theme From I Dream Of Jeannie) TeeVee Toons Inc
"Let My Cameron Go"
"The 1961 Ferrari 250GT California"
Oh Yeah Yello
"What aren't we going to do today?"
Beat City The Flowerpot Men
"Bueller, Ferris Bueller"
Bad Big Audio Dynamite
Star Wars (Main Title) John Willliams
Please Please Please Let Me Get What I Want (Instrumental) The Dream Academy
"The Parade"
Danke Schoen Wayne Newton
Twist and Shout The Beatles
Radio People Zapp
I'm Afraid Blue Room
"Righteous Dude"
Taking The Day Off General Public
"I heard that you were feeling ill"
The Edge Of Forever The Dream Academy
March Of the Swivelheads The (English) Beat
"Life moves pretty fast"
Oh Yeah (Dance Mix) Yello

BONUS TRACKS
Love Missile F1-11 (Dance Mix) Sigue Sigue Sputnik
Please Please Please Let Me Get What I Want The Dream Academy
Rotating Head The (English) Beat
Thanks to:
Jacob, Harlock, roxy, Sean Michael Valentine, Just Wild, Gee, Matthew Hare, Marcelo "Faith" Fonseca, Humble Hendrik, Allapowa, Roli, Jess, Chris Churchill.

Note on the CD listings Danke Schoen and Rotating Head are both actually misspelt as Danke Shoen and Rotating Heads respectively.
---
entrance | introduction | faq | recreate the scenes | sounds | system requirements | oh yeah ferris mix | quiz | missing scenes | cast | desktop theme | soundtrack | merchandise | video | art institute | mad magazine | essays | voting booth | links | link to | site map