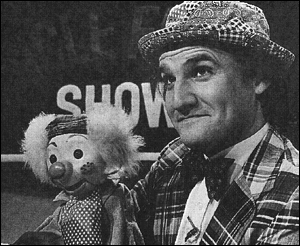 "Today, television doesn't have any silence-it's a constant noise." -Floyd Vivino (AKA Uncle Floyd)

Before Pee Wee Herman and Howard Stern, there was a local cult figure from New Jersey who was building an audience of loyal followers with his puppets,insane characters, and a true DIY style that has gotten lost in TV land recently. His name is Floyd Vivino, but those on the East Coast tip know him affectionately as Uncle Floyd. Behind the facade of a children's show, his variety hodge podge presented comedic brilliance, puppetry, and a taste for underground punk and rock that no other forum showcased. Uncle Floyd opened the door to up-and-coming bands and granted those youngsters, who couldn't make the trip to CBGBs or Max's Kansas City, a dose of rock-n-roll that was a rarity on television at the time. Performers such as The Misfits, Cyndi Lauper, Bon Jovi, Blotto, Gary U.S. Bonds, The Ramones, and Squeeze sang their hearts out among crude drawings. Throw in a puppet named Oogie, characters like Mugsy, Netto, Julia Stepchild, Eddie Slobbo, and Joe Frankfurter, a piano, and a vaudevillian sense of style into a crazy hat and you've got one of the most underrated variety shows the East Coast has ever witnessed. Let me introduce my favorite uncle to you, Uncle Floyd.

Our conversation started out with our shared passion for vinyl of all kinds: colored, imports, specialty, etc. Uncle Floyd admitted to having a quarter of a million records in his collection and wondering why he had such a addiction to what I call "black crack." He gave me insiders info to underground record shops in New Jersey (what else would you expect from Uncle Floyd?) After bonding over our addictions and agreeing on anti-CD emotions, I told him how friends of mine from high school in New Jersey started local Uncle Floyd fan clubs.
Raquel: How was Uncle Floyd the character created?
Floyd: It was just me. It wasn't put together on a drawing board, it was me as an entertainer with all my experience at the time. I came from the circus, burlesque and nightclub world, so when I went on TV, I had to continually grind out new material everyday; I just did what I always did. I was always this. I know that sounds weird, but I was playing myself without limitations. When I put my Uncle Floyd hat on, I could be free. Without it, I'm just back in line with everyone else. No rules were made and we never sat down with guidelines.
Raquel: How did you translate what you were doing in the nightclubs into television?
Floyd: I just cleaned it up. Double entendre was alright. In a nightclub you can be sharp because you know what's going to go over, you can feel the audience and you know exactly what kind of audience it is. Whether it's senior citizens, a religious group, young people, or a bunch of wise guys, the minute I get in, like a musician or any entertainer, I'll know which way to go. On TV, you don't know which way to go, you don't know who is watching. But you start getting mail and little comments from people and you start to find out who is watching you. I would then play to them!
Raquel: Now, what made you decide to make your act a television show?
Floyd: I actually never wanted to go into television. I was with the circus and there was a gas shortage and we got tired of trying to get gas. Going from Philadelphia to Connecticut became such a big deal. A real nightmare. It became such a pain to get the gas that I came back to New Jersey in Dec. 1973, and then started the show on cable on January 29, 1974. I got in at the very early days of cable, no one knew what was going on.
Raquel: What channel?
Floyd: Well, it's what is now Cable Vision which is very big. We were United Artists Columbia in the beginning. UACC owned us, but then I went to UHF at the same time on Channel 68 out of Newark which was an independent. I was on cable and UHF and that's how I got into New York City.
Raquel: How many people would you say were tuning in?
Floyd: The ratingsuse to say between 300,000-400,000 people when we were at our peak.
Raquel: So, it was mostly the tri-state area?
Floyd: Pretty much. In 1982-83, we were syndicated in Oklahoma, California, Chicago, Boston, Cleveland, and Philadelphia, but most of the show has always been in the metro New York area. Now, it is only on Cable Vision and we just lost lower New York State again but we'll get them back. We're on in Westchester, Rockland, Orange, Bergen, Morris and Passaic counties. But now, Cable Vision is doing a realignment of all their local programming and I'm staying with them because they are big! They are in Brooklyn, The Bronx, Long Island and taking over most of New Jersey.
Raquel: There was, and is, so many bits of Vaudeville in your act. Were you brought up in that element?
Floyd: I was always in the wrong time zone and in any generation, even today, in the hippest high school, you will find five or six students that are into the '70s or the Beatles for some reason. Well, I was one of those kids back in my time. I was not running around going crazy over the Beatles when they came over. I was into Jimmy Durante, Louis Prima, Louis Armstrong, Martha Raye, Jackie Gleason, and the Vaudeville acts that used to be on the Ed Sullivan show. I was aware of rock-n-roll and enjoyed it, but I also experience the world that was passing. So, in 1968 when I started playing professionally the people who would be at the bar were the WWI people, an older group. But that's what I fell in love with; that's what was in my heart.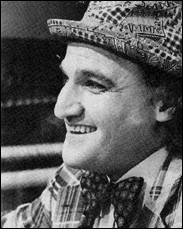 Raquel: Who inspired you most of all? What comedian? Did you ever have the chance to meet them?
Floyd: No, the only people who inspired me the most were my parents because they were show people. I don't think I was ever inspired, I just didn't know anything else. Milton Berle and Groucho Marx were great. It depends on my age. My top five people change constantly throughout my life. Lou Costello at one point, Groucho Marx when I was going through my rebel stage, and then Milton Berle even later. But, I also watch Chris Rock, and I love all the guys today.
Raquel: Who are your top five now?
Floyd: George Carlin, Chris Rock,
Raquel: I LOVE George Carlin.
Floyd: Carlin I can't get enough of.
Raquel: I also love Sam Kinison.
Floyd: Kinison was brilliant! But there is so much on now that you flip through cable and you see guys and you never see them again. But, you enjoy them for that moment. I like all of it, that's the problem. Like a chef likes all foods I guess. I can't think of anybody I don't like.
Raquel: Well, what do you think of all the sitcoms that are out now?
Floyd: I don't watch them. I'm not in that world, but I'm NOT talking about Seinfeld because I do like it and I laugh! I didn't like it at first because I couldn't hook into anything. Then as I started watching, forget it! I couldn't stop laughing. But the other ones, almost all of them, they are mathematical - I don't understand it. It's just fluff. But I did two episodes of Cosby last year, and that is a good show.
Raquel: What other television have you done?
Floyd: Law and Order twice. Also, the soap opera Loving on ABC for two months but then they killed me. I was on the episode that won the Emmy as a vitamin salesman, a comedy part obviously. I've also had movie roles here and there. But nightclubs are my thing. I also have an Italian radio show in New York.
Raquel: Did you ever have a late night network show?
Floyd: No, but I did fill in for Gilbert Gottfried on USA Up All Night! I also did MTV in October of 1986. They had me on late night for three weeks, from 2-6am with Oogie introducing videos. I also had a good part in Good Morning Vietnam; one of the radio men, Eddie Kirk.
Raquel: That's great exposure! Any other films?
Floyd: Well, Mitch Markowitz wrote it, so he put me in Crazy People with Daryl Hannah and Dudley Moore after that. They actually filmed that movie twice. John Malkovitch was the lead first, but he walked off halfway through the movie. Hmm, I wonder whatever happened to him (big chuckle). In 1993 I did Mr. Wonderful with Matt Dillon and, in 1994, Pyromaniacs with John Leguizamo and the Baldwin clan.
Raquel: You mentioned double entendre before. Did you realize that you had such a dual audience? Did the Uncle Floyd show start out as a kids' show?
Floyd: Honestly, I wanted to do a kids' show. But very early in the game I realized that I would be a terrible children's entertainer. Because I just couldn't help resist but go the natural path of the double entendre with my background. When you do a show with no rehearsals or scripts there is bound to be endless opportunity to say things, etc.
Raquel: The outtakes must have been hilarious!
Floyd: We didn't have any outtakes because we left them in! So, our show was a dress rehearsal with the outtakes in it! Since it was new everyday, and no one could tape it and watch it over and over, it worked because you had to be there to see it. Very much like radio. So, we thrived on that and the energy was great! Outside of Letterman and Leno, the other talk shows look like they could have been taped five weeks ago.
Raquel: Do you miss live television?
Floyd: I miss watching it, sure! To see acts bomb? It was GREAT! I don't know why they sweeten everything now. I remember watching Ed Sullivan and, after the Beatles, the poor comedian London Lee gets on stage and the girls are screaming and he says, "Quiet please. I can't do my act." He bombed - the man could NOT work. That was great; you wouldn't see that on television today. People were not afraid of silence then. Today, television doesn't have any silence - it's a constant noise. [Ed. note: We then talked about TV Land, Teletubbies, and his brother who plays in the Conan O'Brian band.]